Section 2: The People
Submitted by
admin
on Mon, 03/02/2009 - 17:20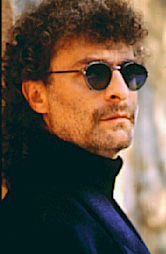 Michael Cretu is a singer, songwriter, and producer. Born on May 18 1957 in Bucharest he is ENIGMA - the man who created the secretive project, releasing the first album in late 1990. He has also worked with or for Sandra, Andy Hard ("Angel"), Cretu and Thiers, Moti Special, Mike Oldfield, Peter Cornelius, and Hubert KaH, as well as doing his own solo albums.
In 1965, Cretu's music career began when he entered "Lyzeum No. 2" in Bucharest, a college for young and gifted musicians. His main instrument was piano (which he started playing from the age of five and a half). In 1968, he went on to Paris to study for 5 months, and in 1975, at the age of 18, left Romania and moved to Bad Homburg where he was successfully admitted to the Academy of Music in Frankfurt. Graduating in 1978 with distinctions, Cretu started working as a studio musician and arranging songs. Releasing his first album, Moon, Light, and Flowers on the Polygram label in 1979, Cretu's other work paid off with him getting his first award in 1980, this one being gold for his work as a producer.
In 1983 Cretu released Legionare through Virgin Records and by 1985 had achieved top chart positions as writer, producer, and keyboarder of Moti Special. He produced Sandra's first international #1 hit single Maria Magdalena and released another solo album called Die Chinesische Mauer (The Chinese Wall). Soon after followed The Invisible Man which was the same album Die Chinesische Mauer (The Chinese Wall) but with English lyrics. From 1985 onwards he mostly worked as a producer, working with Moti Special, Tissy Theirs, Cretu and Thiers, and in 1987 with Sylvie Vatan. During his time with Sylvie Vatan in Paris he was introduced to Mike Oldfield whom he helped with on his album Islands. It is believed that Oldfield encouraged Michael to start focussing less on producing and more on writing music.
February 7 1988 saw Michael Cretu marry Sandra Lauer, with them both settling on the island of Ibiza in Island shortly after. They still live here today and own 2 properties there - an old farm house which is both their residence and studio (A.R.T. studios), and a renovated house in the centre of Ibiza Town which is a historical monument from the 18th century. It is in the basement of this house that Cretu has established a restaurant, and Cretu is known to often invite musicians to dine there. Cretu is clearly very happy where he lives for as he stated in an interview in Music Mag in January 1994: "I leave Ibiza only for taxes and for the new video".
December 1990 saw the release of Cretu's most popular album to date, MCMXC a.D. under the alias of ENIGMA. From this came the extremely popular single, Sadeness part 1 in 1990, followed by Mea Culpa part II, Principles of Lust, and The Rivers of Belief in 1991. Two years later came his first soundtrack work (for the movie Sliver) and his much anticipated follow up ENIGMA album, The CROSS of Changes which had 1.4 million advance orders! From this album came the top charting single Return to Innocence, as well as the EYES of Truth, Age of Loneliness, and Out from the Deep. Another two years on comes the release of Le Roi Est Mort, Vive Le Roi! which translates to The King is Dead, Long Live the King!. Only the singles Beyond the Invisible and TNT for the Brain have been released from this album thus far.
In discussing his work, Michael Cretu has let it be known that he loved Bruckner's late Romanticism, that he used to want to be a concert pianist, and that "I started writing hits the day I sold my piano". He has also admitted to liking the music of Nirvana, Jon Anderson, and Snap!. He is a self-confessed night owl, and also a workaholic, this being seen by the fact that the production phase for The CROSS of Changes took 7 months with the computer log of his sound bridge often stating that recording sessions from 10pm to 11am occurred. During this whole period he rarely saw the sun, and didn't use either his new mountain bike or offshore racing boat (offshore racing is one of his hobbies). Instead he was busy in front on his 3 terminals, perhaps listening to one of hundreds of CDs with chants of different primitive races, sampling, synchronising, and cataloguing the sounds so that he could begin song writing. Le Roi Est Mort, Vive Le Roi! took nearly a year to record, and once again was done in seclusion. As Cretu stated in an October Music Week article, "To be separated from the world is very important. I have to spend months in one atmosphere in order to dive into the back of my mind.".
To ensure his unusual working rhythm is not interrupted and because of the unreliable power supply where he lives, Cretu has his studio's power supplied by his own generator. He also has two back-up generators so that his work will never be lost. From seeing videos, it is known that when he's not worrying about the power supply he is most likely smoking! Every video shows him smoking, whether it be a music video, interview, or footage of him in the studio. When not smoking his hands are always restless, fidgeting with something or other. Wearing a watch on his right wrist, it is likely that he is left-handed.
First some history. Cretu is a Romanian surname. In the Romanian language a comma is sometimes placed under certain letters to alter the pronunciation of the sound of that name. The Romanian language is, in essence, a mixture of Latin (because their ancestors are ancient Romans) and Slavic (since Romania is surrounded by Slavic countries). It also has a bit of Arabic here and there due to the Turks being in the country during different times in history.
In Michael's case there is actually a comma under the letter 't'. This makes the pronunciation of the less "tsss" (a bit like the sound of a hi-hat symbol). Therefore his surname is best pronounced in English as "Cray-tsoo" or "Crea-tsoo".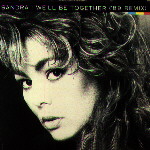 Born on May 18 1962 as Sandra Lauer, Sandra Cretu is a European pop singer who is well known for both her work with ENIGMA, and the fact that she is married to Michael Cretu! Sandra released her first single, Andy, Mein Freund, in 1976 at the young age of 14 (she says 12 in interviews so perhaps it took 2 years to make). In 1979 she joined 2 other girls in the group Arabesque. The band was popular in Japan.
In 1985 Sandra began her solo career by releasing the album The Long Play through Virgin Germany. From this album she released perhaps her biggest hit, (I'll never be) Maria Magdalena, along with In the Heat of the Night, and Little Girl. She followed up this album with Mirrors in 1986, which saw her releasing 4 singles - Innocent Love, Hi! Hi! Hi!, Loreen, and Midnight Man.
1987 saw the release of Sandra's first compilation, Ten On One. The album was released in the USA and Canada in in 1988 with a different track listing and the title Everlasting Love. It was also released in France as 10/10. From the album came the singles Everlasting Love, and Stop for a Minute (from the soundtrack Salu Palu). In 1988, Sandra also released her next studio album, Into a Secret Land. From this she released Heaven Can Wait, Secret Land, We'll Be Together, and Around My Heart. In between albums, she became a member of Member of Artists United for Nature and made a single in 1989 for this benefit.
Paintings in Yellow was released shortly before the beginning of what was to be ENIGMA in 1990. She released 3 singles from this album, entitled Hiroshima, (Life may be) a Big Insanity, and One More Night. While it was originally planned that a French woman, possibly Sylivie Varte, would do the female vocals on ENIGMA's MCMXC a.D., Richard Branson, boss of record company Virgin, insisted that Sandra fill the role. The rest, as they say, is history!
Following the success of ENIGMA, Sandra's 1992 album Close to Seven bought about the attention of many ENIGMA fans due to it being both sung by her, and written and produced by Michael Cretu (he also produced all the other Sandra albums by the way). Recorded at A.R.T. studios, the album had 2 singles released - Don't Be Aggressive, and I Need Love. This album was followed shortly after by another compilation called 18 Greatest Hits.
Sandra helped in providing female vocals to the second Enigma album released in 1993 before releasing her latest album, Fading Shades, in Europe in June 1995. The first single from the album, Nights in White Satin, was released in Europe in March 1995 which was a cover of the Moody Blues classic from the 1967 album Days of Future Passed. A few months after the album, Sandra's second and final single, Won't Run Away, was released. Sandra went on to once again providing female vocals to the third Enigma album released in December 1996.
June 1999 saw yet another best-of compilation called My Favourites. A double CD, it contains her favourite tracks on one CD along with a CD of remixes. From the album is the single Secret Land.
After a small 'retirement', Sandra returned in September 2001 with the single Forever. Written by Peter Ries and Wolfgang Filz, whom have remixed literally all her songs since 1999, it was produced by Michael Cretu and Jens Gad. A new album entitled Wheels of Time, is due in 2002.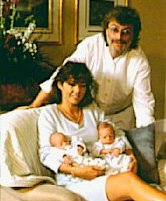 Nikita and Sebastian are the children of Michael and Sandra. Twins, they were born on July 6, 1995 at 10:03 and 10:04 respectively. The track First Lullaby from Sandra's Fading Shades album, released one month before their birth, was written especially for the twins by Cretu and Hirschburger. This is especially obvious from the verse:
Here's the place we go to sleep
And here is your garden

I've got one arm for each of you
One lullaby for two
Louisa Stanley is an ex-employee of Virgin Records, Enigma's record company, who worked in the radio promotions area. A British woman, it is unknown exactly how Michael came to realise her singing talents.
She is credited for providing female vocals on The CROSS of Changes and Le Roi Est Mort, Vive Le Roi!. It is also believed that she provided vocals on MCMXC a.D..While not confirmed it is thought that her voice is used on The Voice of Enigma from MCMXC a.D., The Second Chapter, The Dream of the Dolphin, and The Cross of Changes from The CROSS of Changes, and Le Roi Est Mort, Vive Le Roi!, Third of its Kind, and Odyssey of the Mind from Le Roi Est Mort, Vive Le Roi!.
Frank Peterson is best known for his writing work with Michael Cretu on Sandra's Into a Secret Land and Paintings in Yellow albums, and ENIGMA's MCMXC a.D. album. Not credited on Sandra's 1992 Close to Seven album or ENIGMA 2's 1993 The CROSS of Changes album, it is now known from talking to Cretu's manager in January 1996 that they have parted ways due to "artistic differences". It does not appear that the separation was friendly.
Some information taken from summary of meeting with Enigma and Sandra's manager.
David Fairstein has assisted Michael Cretu since 1990, when he helped write for ENIGMA's MCMXC a.D. album. While not verified, it is also believed that Fairstein did the Omen Remix of The Principles of Lust which is credited as being remixed by D.F.F. Since then he has assisted in writing No Taboo from Sandra's Close to Seven album; I Love You .. I'll Kill You and The Dream of the Dolphin from ENIGMA 2's The CROSS of Changes; and Beyond the Invisible, The Roundabout, and Prism of Life on ENIGMA3's Le Roi Est Mort, Vive Le Roi! His most recent work is believed to be writing songs in French for the debut album of a Franco-Amercian woman called Silja. She had some club hits in 1994 and 1995 with How Could I Find Love?, Time for Eternity (both remastered by Michael Cretu), and Flesh & Fire which (written by David Fairstein).
Andy Hard is a singer from Munich. It is not known whether he did any singing on ENIGMA's MCMXC a.D. album, but it is known that his vocals were used on Return to Innocence from ENIGMA 2's The CROSS of Changes album and on Sandra's Close to Seven album. In Europe in December 1993, he presented his debut album Welcome to the Soul Asylum which was produced by Michael Cretu and Jens Gad. There are two different storied about how he came to Michael's attention. One is that he was introduced by Jens Gad. The other is that Michael saw him doing karaoke, invited him to do background vocals on Sandra's Close to Seven album, then further offered to produce an album for him.
Peter Cornelius is an Austrian singer and songwriter, born on January 29, 1951 in Vienna. Releasing a number of solo albums since 1980, Cornelius did an album with Michael Cretu in 1992 which was called Cornelius + Cretu. It has all lyrics and singing in German, and from it are released two singles, Rettungsringe Sterben Aus and Nur Die Hoffnung Nicht. In 1993 Cornelius showed himself in a new light by contributing the electric guitar solo in I Love You...I'll Kill You on ENIGMA 2's The CROSS of Changes, and on ENIGMA3s Le Roi Est Mort, Vive Le Roi!, he performs the guitars on The Child In Us. It is known that Cornelius and Cretu are very good friends, and have been for a long time.
Jens Gad is a former Q-singer, producer, and guitarist. He co-produced Angel's album Welcome to the Soul Asylum with Michael Cretu, supplied most of the guitar parts on The CROSS of Changes, assisted in the Long & Alive Version of Return to Innocence, created the 380 Midnight Mix of Return to Innocence, assisted in the Gotterdammerung Mix (The Twilight of the Gods) of the EYES of Truth, created the Dub Version of the EYES of Truth, assisted in the Clubby Radio Edit and Enigmatic Club Mix of Age of Loneliness, and created the Rock Version and Trance Mix of Out From the Deep. He also helped with remixes for Nights in White Satin and Won't Run Away from Sandra's Fading Shades album. More recently he has been involved with the Trance Atlantic Air Waves project, and the Andru Donalds album.
Julien Temple is a music video maker. He has made music videos for the first single from each of the three Enigma albums, those being Sadeness, Return to Innocence, and Beyond the Invisible. In an October 1996 Music Week article, he has said "Working with Michael is unique. He doesn't appear in the videos, but he has a very clear idea about what his music can achieve visually. It's an interesting combination and you have the sense you can try anything.". Michael has also given high praise for Temple and how he reads his music and thoughts.
Andru Donalds is a Jamaican singer. In April 1998 Michael heard his famous European hit Michale while on holiday in Greece and was amazed at his unique voice. He contacted him, and discussed having him work on Enigma 4. Things continued and Michael produced an album for Donalds called Snowing Under My Skin, released in Europe in May 1999. They also co-wrote 3 songs together. The album contains 3 cover songs - All Out of Love by Air Supply (the first single with remixes by Trance Atlantic Air Waves), Snowing Under My Skin by Cretu and Thiers, and Dream On by Aerosmith. Simple Obsession is the second single from the album.
As a child Andru travelled often and learnt music from a young age. He got classical music training as a child and sang in a boy's choir. He was also encouraged by his parents to listen to a lot of music such as the Beatles. A rebel by nature he quit school and lived in places such as England, Holland, and France, expanding his musical ability as he went. In 1995 he was introduced to producer Eric Foster White, known for such artists as Whitney Houston, and created his first self-titled album. He had a huge hit with Michale which got to #4 in the US and was popular in Europe. He followed up with the album Damned if I Don't. It was by now that Michael had met him, asked him to do Enigma, and started working on his latest album. Andru has indicated his gratitude at learning about music from other areas of the world such as Pakistan, India, and Morocco, indicating the style of music we may expect from Enigma 4. He also indicated a strong bond and workmanship he achieved with Michael.
Trance Atlantic Air Waves (TAAW) is a side-project of Michael Cretu and is thus far following a similar pattern to that of Enigma. The first single, Magic Fly, was released in mid-1997 and is a cover of a 1970s song by a group called Space, with the music being credited to Ecama on the single. There are no credits published about Michael Cretu. The second single, Chase, was released in 12" format in December 1997 and gives credit to Cretu. A cover of Giorgio Moroder's hit from the Midnight Express soundtrack, it was released in CD single format in March 1998. The third single, Crockett's Theme, is a cover of Jan Hammer's track from the Miami Vice soundtrack, and was released in July 1998. Trance Atlantic Air Waves' first album, The Energy of Sound, was due on March 16 1998 in Europe, and July 14 1998 in the United States.. It primarily consists of a number of covers by artists such as Giorgio Moroder, Jan Hammer, Vangelis, and The Alan Parsons Project.
Since the release of this album TAAW has remixed a number of singles from Cretu-produced projects. These include tracks from Andru Donalds and Enigma's fourth album The Screen Behind the Mirror.
Rumours have been around for a long time that Michael Cretu and Frank Peterson parted ways in fairly angry terms upon the release of ENIGMA's MCMXC a.D.. This fact was confirmed to me by ENIGMA's management but no reason was given. However all the way back in 1994 Michael explained the situation with the French magazine L'affiche. He explained that he was very disappointed by Frank's attitude because he had released the album Sadisfaction under the artist name of Gregorian without forewarning him. He was also not notified about the singles off the album, So Sad and Once in a Lifetime. It angered Michael because his material and money was used. The result of this was that they quarrelled and never worked together again after MCMXC a.D. despite a long friendship. The interview has Michael swearing about Frank!
---
Go to Section 3: The Music