Section 4: The Music
Submitted by
admin
on Mon, 03/02/2009 - 17:26
The music of ENIGMA is described as a "musical work with hardly anything in common with standard songs and their formats", and "a comparatively new collage of sounds, rhythm and feeling for time". The first album focussed on Gregorian chants combined with dance rhythms, while the second album, The CROSS of Changes, is seen as a musical step forward, incorporating all the instinctive elements of MCMXC a.D. yet doing so in a completely new guise, notably with the use of native song instead of Gregorian chant. Finally, the third album, Le Roi Est Mort, Vive Le Roi!, is seen as the musical parents to the previous two albums - combining most of their elements and then building on them.
In describing the music, Cretu stated in a May 18 1991 article from Billboard: "Contrary to the usual record-company philosophy, people are open-minded and starved for something unique. This is music that is different from any other available at the moment. I think people have responded to that.". He goes on to say "With ENIGMA, I have created a complete piece of music that I wanted to let stand alone. There is a sense of mystery in the music that I want to leave untouched by the perceptions and preconceived ideas that come with the past history of a producer or a songwriter.". Later in the article he talks about the misconception that people have upon hearing Sadeness that the rest of the album is filled with Gregorian chanting, and defends this by saying that the album is a complete work with many different levels and sounds, Sadeness being only one piece of the puzzle.
Information mostly supplied from promotional material from Virgin Records Australia
To many people, ENIGMA is unique and there are no other groups who come close to the sound and style that they produce. To other people, ENIGMA is nothing more than dance music added to traditional sounds. A popular commercial band that ENIGMA are being compared to are Deep Forest, mainly because that they too are seen as being nothing more than a dance and traditional sound combination (in their case, they bought traditional African and South American sounds from National Geographic). Some tracks and albums that have been recommended for people who like ENIGMA are:
Anything by Banco de Gaia
Anything by B-Tribe
Anything by Dead Can Dance
Deep Forest's Deep Forest or World Mix
Delerium's Semantic Spaces (especially Flatlands) and Karma
Enchanted's Enhcanted
Anything by Gregorian
Later albums by In The Nursery
Pascal Languirand's Gregorian Waves and Ishtar
Moodswing's Moodfood (especially Spiritual High and Hairy Piano)
Mouth Music's Mo-Di
Patrick O'Hearn's Indigo (especially for the atmospheres) and White Sands soundtrack (especially Main Title)
Praise's Praise
Vangelis' 1492 soundtrack (especially Conquest of Paradise and Pinta, Nina, Santa Maria (Into Eternity))
Woob's woob1194 (sometimes confused as being called em:t1194).
Listed samples for this album are only on Trilogy, a box set released only via direct order in Germany in April 1998. These listed samples are Gregorianische Gesange and Paschale Mysterium by Choralschola der Capella Antiqua Munchen. After legal action it was determined that most of the Gregorian chants come from a CD called Die Gregorianischen Gezange by (Choralschola der) Capella Antiqua Munchen. It was released by Philips in Germany with a catalog number of 426 838-2 on CD.
While not credited, the following samples are known:
The fundamental beat to Sadeness, The Rivers of Belief, and a remix of Mea Culpa are from Soul II Soul's Keep On Moving from their first album.
The 'sensual breathing' that is most evident in Find Love, is highly like to be from Aphrodite's Child Infinity from the album 666. On the original track, Irene Papas tries to say the same thing repeatedly - "I was, I am, I am to come.."..
The underlying beat, together with the sounds of running water and birds chirping are from Mike and the Mechanics' Par Avion from their self-titled album of the mid-1980s.
The bells and rain at the beginning of Mea Culpa are from the introduction to Black Sabbath's Black Sabbath album with the thunder softer in sound.
Part of the drum loop on the Orthodox Mix of Mea Culpa is linked to Madonna's Justify my Love from the album The Immaculate Collection. This sample was originally taken from Public Enemy who in turn took it from James Brown's Funky Dreamer!
The beat in Mea Culpa (Fading Shades Mix) is linked to Led Zeppelin's When the Levee Breaks from the album Stairway to Heaven. The sample is also used in the Beastie Boy's first album and by William Orbit in many Strange Cargo tracks.
All of The Voice and the Snake is linked to Aphrodite's Child Seven Bowls from the album 666. Enigma added some extra synthesizer to it.
Many samples are also directly taken from the double album 666 by Aphrodite's Child - an old band which Vangelis used to be a member of. Most of these samples were used as the spoken parts in The Rivers of Belief.
In the 3 years it took Michael Cretu to release The CROSS of Changes, he worked his way through hundreds of CDs of native song, sampling, cataloguing and synchronising many sounds before he began his song writing process. The album lists where some samples are gathered from, but not all, and on the first pressing of the European version, these credits are hard to read. This is what it says:
Samples taken from:
excerpts from the album "Songs From The Victorious City" performed by Anne Dudley and Jaz Coleman on China Records publ. EG Music/BMG Music Publishing/EMI Songs
"The Calling" by APL taken from their forthcoming album on Beyond Records. Publ: Chrysalis Music Publishing Ltd.
"Polyphonies Vocales Des Aborigines de Taiwan"
"Mongolia Musique Vocale Et Instrumentale"
"The Crossing" performed by Mind Over Rhythm on Rubble Records publ.: Rubble Music
On all but the first pressing of the European version and Trilogy (a box set only released in Germany and only available via direct order), the "Polyphones Vocales Des Aborigines de Taiwan" and "Mongolia Musique Vocale Et Instrumentale" credits are not present. From the above listed samples:
The Indian sounding instrument at the end of Second Chapter and beginning & end of The Eyes of Truth is linked to Songs From the Victorious City.
The main chant in Return to Innocence is linked to the first track from Polyphonies Vocales Des Aborigines de Taiwan.
The swirling voice used within Out From The Deep is linked to The Calling.
The track used from Mongolia Musique Vocale Et Instrumentale is a love song called Jaakhan Charga.
Some of the samples not mentioned include:
The vocal 'ahhh'ing during the middle of The Eyes of Truth is linked to the start of Ultraviolet (Light my Way) from U2's album Achtung Baby.
The underlying drum sequence of The Eyes of Truth is linked to Peter Gabriel's Kiss that Frog from the album Us. The middle rhythmic section is linked to Genesis' Dreaming While You Sleep. The two-way communications spoken comes from a NASA recording of an Apollo moon landing. It is linked to Vangelis' Mare Tranquillitatis from the album Albedo 0.39.
The guitar riffs at 2'12" and 2'23" of the Gotterdammerung Mix of The Eyes of Truth is linked to Extreme's It's a Monster from the album Pornograffiti.
There are two rumoured sources for the chant on Return to Innocence. The first is called Elders Drinking Song and is sung by Taiwanese singer Difang Kuo. An album of his works, produced by Dan Lacksman (known from the first Deep Forest album), was released in late 1998. It is called Circle of Life and released on Rock Records in Japan with a reference number of RCCA-2013. The second is called Jubilant Drinking Song and is sung by 79-year-old Kuo Ying-Nan and his 78-year-old wife Kuo Hsin-Chu. Recorded in 1988 by a French cultural organisation it is sung in the traditional Ami tongue was made in 1988 by a French cultural organization.
The drums of Return to Innocence are linked to the beat of the Fading Shades mix of Mea Culpa.
The beginning drum loop of I Love You ... I'll Kill You is linked to Genesis' Fading Lights. The lyric "Bring it Back" is linked to Robert Plant of Led Zeppelin. It is believed the harmonica may be from Black Sabbath's The Wizard.
The beginning drum loop of Silent Warrior is linked to Genesis' Tonight, Tonight, Tonight. Its Indian chants and drumbeat are linked to an old war dance called The Ghost Dance (which has been banned in all forms (including recorded form) in the United States since the mid-to-late 1800s).
The album lists the following samples:
Gregorian Cantus/Pierre Kaelin
with kind permission of Tudor Records
Lettonie - Musique Des Rites Solaires by Rasa Ensemble Riga
Vocal and Instrumental Music of Mongolia
The last mentioned sample source was also used for The CROSS of Changes.
Some of the samples not mentioned include:
The background talking of "X-ray Delta One, this is Mission Control. Roger your one-niner..." is from the movie 2001: A Space Odyssey. It is the start of Mission Control's answer to the suggestion by Poole and Bowman to replace the (supposedly) faulty AE-35 unit and is located roughly 1:13:57 into the movie. The complete answer from Mission Control is ""X-ray Delta One, this is Mission Control. Roger your one-niner-three-zero. We concur with your plan to replace number one unit to check fault prediction. We should advise you however, that our preliminary findings indicate that your onboard niner-triple-zero computer is in error predicting the fault. I say again, in error predicting the fault. I know this sounds rather incredible, but this conclusion is based on result from our twin niner-triple-zero computer. We are sceptical ourselves and we are running cross-checking routines to determine reliability of this conclusion. Sorry about this little snag fellows, and we'll get this info to you just as soon as we'll work it out. X-ray Delta One this is Mission Control. Two-zero-four-niner transmission concluded.". This sample should not be confused with Mission Control's answer to the first enquiry about the imminent failure of the AE-35 unit at around 1:05:35 ("X-ray Delta One, this is Mission Control. Roger your two-zero-one-three...").
The spoken word (starting with "Earth...") heard in the background at the start of Morphing Thru Time may be taken from Dreadzone's album Biological Radio. The Gregorian Chant is Passer Invenit.
The Gregorian Chant in Beyond the Invisible is Rorate Caeli.
The underlying drum loop in Why! may be a slightly altered version taken from Beck's Loser track. Beck himself is rumoured to have sampled it from the Dr. John song I Walk On Guilded Splinters on the Gris Gris album from 1968. The Gregorian Chant is Exsurge, Quare Obdormis, Domine?.
The first line of the chant in The Child in Us may be taken from Graeme Revell's soundtrack to the movie The Craft. It is also recognised in Tangerine Dream's At Darwin's Hotel from the Goblin's Club album. The Gregorian Chant is Puer Natus Est. The first vocal verses are taken from a CD-ROM called Heart of Asia (from the Spectasonics label). Samples from this album also appear on Delerium's Karma album.
Parts of TNT for the Brain, notably the introduction, has music taken from the Martian's Song from Jeff Wayne's War of the Worlds soundtrack.
The background vocals used in Almost Full Moon can be heard on the song The Macarena.
The Gregorian Chant in Prism of Life is Sanctus XVIII. The African choir is taken from a CD-ROM called Heart of Africa (from the Spectasonics label).
DJ remixes are versions of tracks made especially for DJs to play in clubs. They are not released to the public, and do not come from the artist's record company. In some cases, the company releasing the DJ remixes will have permission to do so from the artist's record company. In other cases this is not the case, meaning a breach of copyright has occurred.
In most cases, a DJ remix will be a re-edit of an existing remix for the track that has been released by the artist's record company. In some cases, additional samples or music (normally sampled directly from another track) will be used. Quality of DJ remixes varies from good where the music flows along well, to very poor where the music is very disjointed, not flowing easily from one part of the edit to another.
A number of DJ remixes have appeared for Enigma, notably from Razormaid for whom one of its staff is apparently a long-time friend of Michael Cretu's and speaks with him often. Other releases have been found on Future Mix, Black Wax, and M.
Michael Cretu only submitted 2 tracks to the Sliver soundtrack because he declined his first Hollywood contract in order to produce The CROSS of Changes. The producers of Sliver wished for Cretu to do the complete soundtrack for the film, but this would have meant that Cretu would have to live in Los Angeles for at least half a year. Not willing to do this, he submitted just the two tracks, and used one of them, Carly's Song, for his album.
The answer to this is a definite no - there are many differences found between them. These include:
(NOTE: In the following, Carly's Song refers to the CD single version, and Age of Loneliness refers to the album version)
A different underlying beat on each of them, Carly's Song being much deeper and focussed upon.
Extra instruments used on Age of Loneliness, including the reed and panflute.
Extra segments included on Age of Loneliness, including the introduction and middle part.
On all but the first European pressing of The CROSS of Changes there is a different mix of I Love You...I'll Kill You. The difference is subtle - on the first European version the line "You'll be fine" is sung very quietly in the background, as against the other versions where it is much louder and clearly heard. In a letter to the ENIGMA mailing list in April 1994 Michael explained this by saying that after several listenings he found the new version to be much better.
There are some subtle differences between the Album Version on the TNT for the Brain single, and the actual track itself on Le Roi Est Mort, Vive Le Roi!. At around 2:50 the middle piece has a much louder flanger sound (often referred to as jet engines!) followed by Cretu seemingly hiccuping before singing again ("hick, don't be scared and have no fear...").
On the credits page of The CROSS of Changes it is stated "Recorded with the big help and support of E-Magic and Euphonix...". E-Magic are the makers of the Atari and Macintosh software by the name of "Creator" and "Notator", which gives some clue as to the hardware and software Cretu used. Euphonix is a digitally controlled analogue mixer, worth around US$200,000.
While Michael has an interest in performing different styles of music, he stated in a letter to the Enigma mailing list in March 1995 that it is unlikely he will have the opportunity to do so for a long time due to other musical commitments. If he was to do it, however, it appears he would not do it under the artist name of ENIGMA. With the release of Magic Fly under the name of Trance Atlantic Air Waves, Cretu may now be undertaking the challenge of performing another style of music. This should be verified with the release of an album in 1998.
While Michael Cretu listens to the music of Jon Anderson, he does not communicate with other artists who perform similar music to himself (Vangelis, Jean-Michel Jarre, Yello, etc.). Similarly, he cannot see himself ever performing with another artist for the simple fact that he does not have enough time.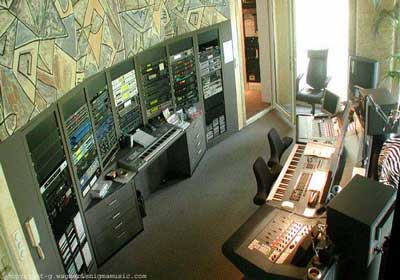 From the credits of various albums, it is known that Michael Cretu uses or has used the Waveframe 1000, Audi Frame Workstation, MIDIMoog, PPG System, Korg M1, C-Lab Notator, Takamine 6 and 12 String, Tom Anderson Electric Guitars, Otari DTR-900, Akai 900, Linn 9000, Prophet 2002, X-Pander, EMS Vocoder, DX-7, and Roland Super Jupiter.
Michaels's technical consultant and studio engineer, who has been a friend for 15 years, designed a new layout for Michael's console in September. His mixing console now has a master keyboard in the centre of it (see picture). New equipment was delivered around June 1998, with the studio now technically re-designed. Most equipment has been replaced with everything reorganised and reinstalled. Most equipment is now digital.
---